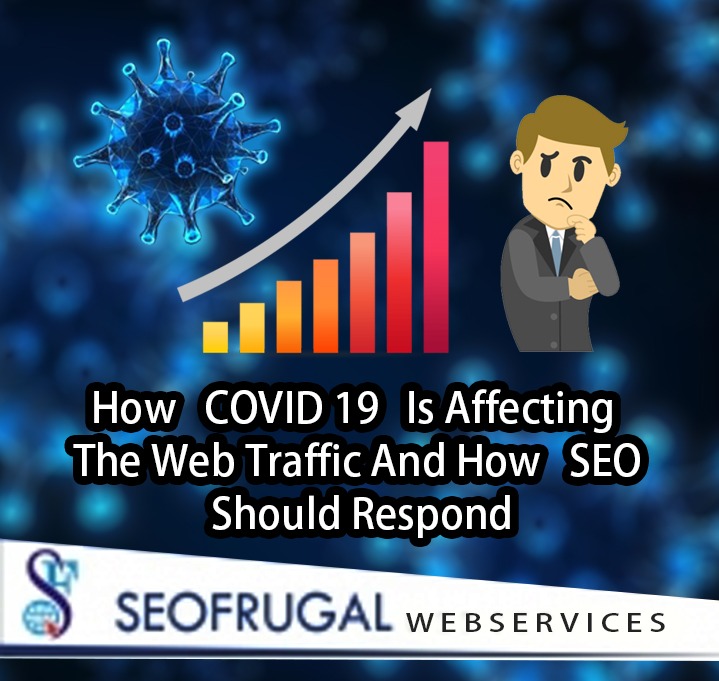 How COVID 19 is affecting the web traffic and how SEO should responds
02 Apr 2020
The state of emergency and any type of serious disease is crucial. It affects the whole world and every sector. First, a falling economy of the country is majorly affected by any type of serious issue and emergency. In the modern-day where technology is on its top, it becomes very difficult to survive in packed homes or totally disconnected from the outer world. As we all know in recent days the world is fighting against one of the dangerous and critical diseases named the coronavirus or COVID 19. COVID 19 has affected almost all sectors, so it is very obvious that it also affects SEO and web traffic. The search is mainly based on human behavior so the COVID 19 is also affecting each industry accordingly. For some companies, COVID 19 is beneficial from the business point of view and for some companies it is not a good business opportunity. In this article, we will share our thoughts on the current situation and how it can be beneficial, also how you should respond to it accordingly.
What SEO can do right now?
To be honest it is not possible that SEO alone can save you from zero revenue as it all depends on external reasons like COVID 19. Seo is all about long period benefits and it is not possible that COVID 19 will remain the same in the future. It will definitely end but what you can do right now. If your business is all about traveling and tourism, there is no doubt that this is the perfect time to make initial changes on your website because once the COVID 19 will end or remove from the market the traveling sector will be the first sector that will boost up, so for that time create some better link that can handle so much of traffic and remove all unwanted targets that cannot be achieved. Create some more effective content so the consumer can attract and also remove all short-time offers.
In how many ways COVID 19 is affecting the SEO and how to respond it
1. Websites that sell essentials are boosting up
We all can see those websites that are selling essentials products like toilet paper, hand sanitizer and other survival things are on the top. People are searching like toilet paper stores near me or superstore near me etc.
How to respond...
It is mainly all about demand right now. People are searching according to their demands but only those things that are essential in avoiding the pandemics. You can keep your website updated with the latest arrivals and give them a proper stock query.
2. Health and wellness websites are rushing up
Health and other medical sites are in a huge rush right now. People are searching in huge numbers like how to avoid COVID 19 and what are the symptoms of COVID 19 etc. in fact in recent days google has been cracked down due to so much search related to giving advice on medical emergencies.
How to respond...
Providing proper and trustable information related to disease will increase your web traffic as well as ranking on the SEO. Answer more and more medical questions.
3. Traveling websites is waving all over the world
The whole world is infected with COVID 19 and almost all the countries are in contact with it. In that case, the immigrants and non-residential are trying to move in their home countries but due to security reasons the traveling companies are canceling the tickets and refunding all amounts. Therefore, it can be said that traveling companies are mostly impacted by covid19.
How to respond...
It is a tough time for the owners but you can keep your ranking high on the SEO by resolving people's doubt and query. Keep your customer support available 24*7 hours.
We think that the giving information above will be helpful for you and if you are interested in making your business digital and more commercialized Seofrugal Web Services the top leading SEO company in Indore, India will be the best choice. For further queries and doubts, you can contact us on our website.
Subscribe to Our newsletter for free Update every week