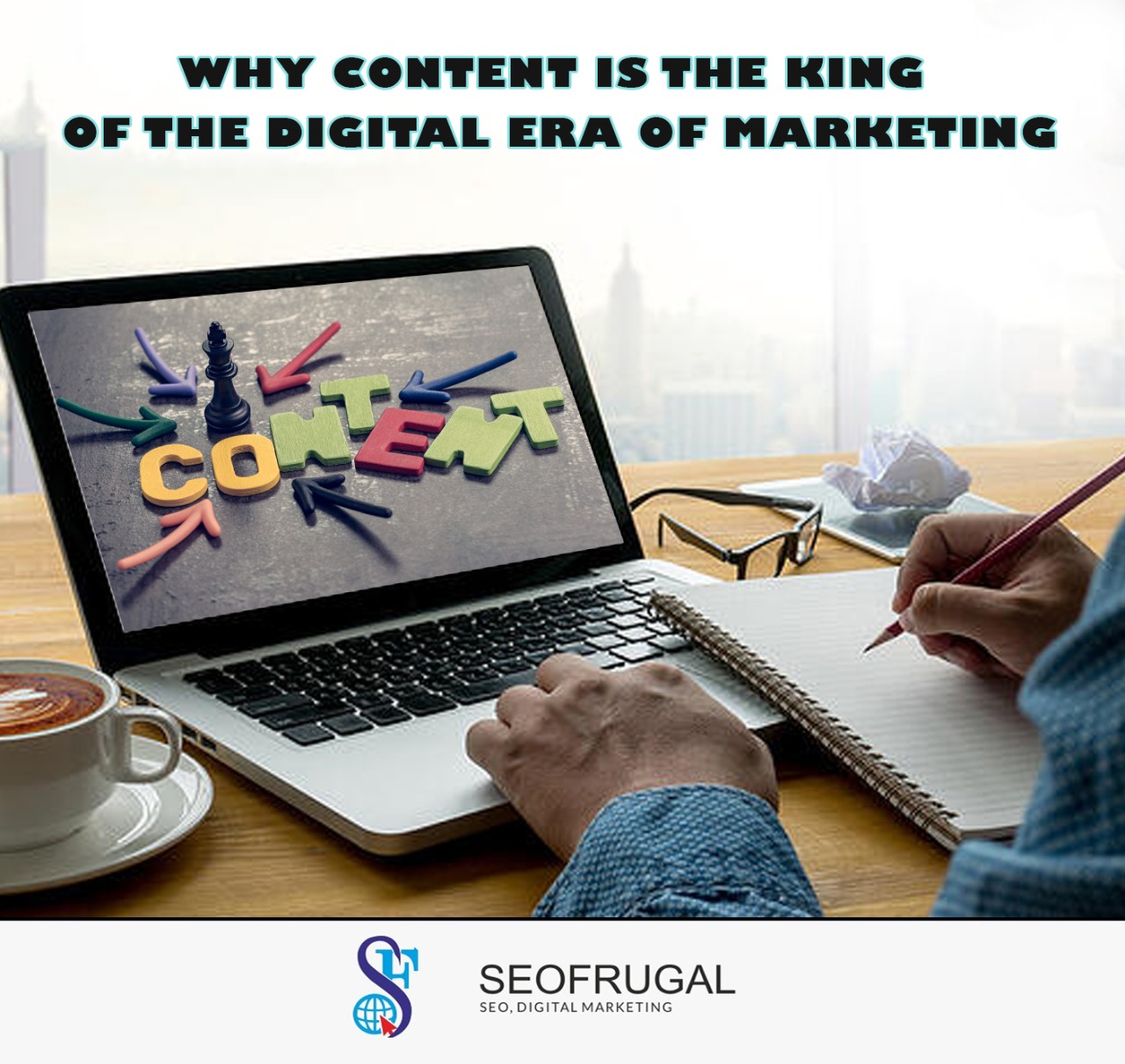 WHY CONTENT IS THE KING OF THE DIGITAL ERA OF MARKETING
31 Jul 2020
Have you ever thought about why most of the company's first focus is on their content because they know without proper content, they are nothing and so is their websites. Words are the most fascinating form of communication. Without words, nothing is possible in this entire world. Even if we talk about our business in this digital era, our words define our success story. Therefore, when you talk about digital marketing, the first priority is always content. It is very important to have unique and engaging content on your website because if don't have it, there is nothing anyone can do for you neither a search engine nor an ad. If you want to win the race in this digital era then, your content can really be a game-changer for your business as well as for your website. What you need is remarkable content that keeps engaging your audience and exciting them to know more about your product or services. In this article, we are going to discuss the importance of having great content on your website. So, let's begin it.
What Content Marketing means
Content marketing is an effective and efficient marketing method that has only one motive which is to reach potential customers through the use of qualitative content. Content is usually published on a website and then promoted through various social media platforms, email marketing, SEO, or even PPC campaigns. Content marketing consists of blogs, eBooks, online courses, infographics, podcasts, and webinars. The important thing to remember at the time of creating content is to identify which channel or medium you are using for communication.
Tips for creating qualitative and engaging content for your website
Keep your content interesting -
Making content interesting is not an easy task and it requires high professional skills. The important thing that makes your content interesting is what topic you have chosen for your audience. If you choose a content topic according to your audience preference then, it will keep them on your website for the long term. Use words like 'I', 'you', 'Me' that make an impression on readers' minds first, and also use headlines and subject lines to create curiosity.

Stuff powerful keywords -
The reason behind creating unique and interesting content at the website is rank on the top in google search engine. Google displays and ranks websites according to the use of particular keywords that relates to the requirement of the searcher. Therefore, using catchy keywords that are commonly used by most people will make the audience click on your article or website. Here's a tip: don't stuff too many keywords in your content that can irritate your reader and they might leave your site.
Write with some emotion -
I know it sounds a little crazy, and what is the role of emotion in making content. Well, it may sound crazy but we are here talking about gathering more audiences which are humans, and some it's good to put some emotion in your content rather too much logic. But it does not mean writing a poem or a story that will definitely bore your audience. Try to put positive emotion into your writing that motivates them to read and choose powerful words that engage them with your product or service.
We are here to help you
We hope that this article has helped you and solved your doubts related to creating qualitative and unique content for your website and if you are looking for hiring a digital partner that guides you and supports you throughout the process, then Seofrugal Web Services, Digital Marketing Company in Indore is the top leading content marketing company in India. For more information contact us at our website https://www.seofrugal.in
Keep reading such articles on our website or our Facebook page & please like our Facebook page to get an update on all new posts.
Subscribe to Our newsletter for free Update every week